This weekend is the Super Bowl and if you are like me I was like "Super Bowl WHAT?!, WHEN?!" I am born and raised in Pittsburgh PA and there is no football if it's not Steelers football! I am sorry to offend anyone that is not a Steelers fan but I just don't know any other way!

So when the buzz around the Super Bowl started I was a little thrown off guard. We did decide to host some family members on Sunday night and as always I'm looking for some great appetizers to share at the party. I always keep it clean, but love introducing clean foods to people who thing that healthy eating is full of stale rice cakes and celery!

I want to provide you, MY FABULOUS READERS some recipes that will make your next party a waste slimming instead of waste widening success!

The key to any appetizer is to go in moderation. It is not a meal and it is not a free pass to indulge because it is clean or healthy. There is such a thing as too much of a good thing!!! So while hummus and guacamole are good fats they can also be bad if consumed in larger amounts!

If you are headed to a party and you have no control over the menu here are my tips:

1. Pre-Eat: Never rely on what is being provided and HOPE that it is clean! Most likely it won't be. You would be surprised at how many parties I go to that don't even have a veggie tray! I always either have a shake or a meal before I go. Then, spend my time socializing and hanging out with people instead of mingling at the food buffet.

2. Choose small plates: Grab an appetizer plate and load up on veggies and fruit. Stay away from creamy dips and fried foods. The small plates will remind you to stay within your portion sizes. When you have bigger plates you tend to feel the need to fill it up!

3. If there is something there that looks delicious that you know is not on the plan, evaluate the situation. Is this what you want to splurge on? What else will you forgo instead? Will you stay away from all other chips and cookies so you can have cake? Will you stay away from Alcohol for chips? Your choice, but you can't have a bangin body and eat your cake too! The power is in your hands, how bad do you want it?


4. Drink lots of water: If you decide to have a few drinks, stay hydrated! Go with your low calorie options like vodka and soda water with a splash of lemon or lime.

5. Stay away from certain ingredients: Stay away from anything that is made with mayonnaise, cream cheese, sour cream or heavy cream and milk. Lots of unwanted calories and fat hidden in there! It doesn't make a difference if it's low fat cream cheese, light sour cream or mayo it's still not a good option. To clean up a recipe with those ingredients try Greek yogurt! Most people can't tell the difference between sour cream and Greek Yogurt!!

So, now that you are armed with some tips here are the recipes to go with it!

One of my favorite party recipes is the Cookie Dough Recipe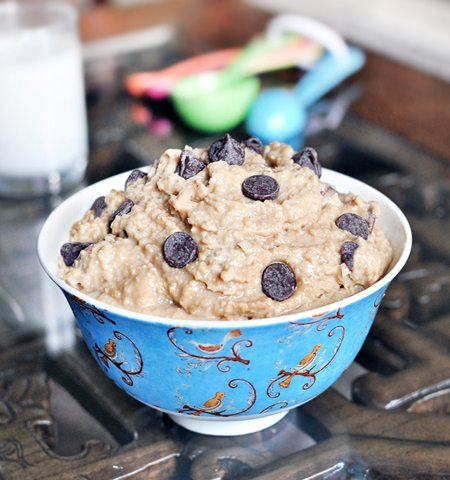 This dip is high in protein, gluten-free, and it can even be sugar-free!

Cookie Dough Dip

Inspired by this awesome recipe.

1 1/2 cups chickpeas (1 can, drained) (250g)
1/8 tsp plus 1/16 tsp salt
tiny bit over 1/8 tsp baking soda
2 tsp pure vanilla extract
1/4 cup nut butter (You can get away with using only 3 T. If you use peanut butter, it'll have a very-slight "pb cookie dough" taste, so if you don't want this, you can sub oil.)
up to 1/4 cup nondairy milk (Start with 1 T, and add more as needed)
Sweetener (see note below, for amount)
1/3 cup chocolate chips
2 to 3 T oats (or flaxmeal) (You can omit, but also omit the milk if you do)

Add all ingredients (except for chocolate chips) to a blender or food processor, and blend until very smooth. Then mix in the chocolate chips.

See the following link for a Sugar-Free Version.

Sweetener Notes: I used 2/3 cup brown sugar when I first made this for the party. Liquid sweeteners (agave, maple, etc.) are fine as well. You can easily get away with less sugar– some people will be perfectly fine with just 3 T for the whole recipe! And if you don't want any sugar, be sure to check out the "no-sugar" version linked above. (You can also use stevia, if you like the taste of stevia-sweetened desserts. Try 2-3 packets of NuNaturals stevia, and add more sweetener if needed. I wouldn't recommend serving an all-stevia version to party guests, though.)



Sweet and Sour Meatballs
1 lb. lean ground turkey

1 cup cooked brown rice

1 8oz can crushed pineapple in juice, drained

1/2 cup green onions

1 tbsp. light soy sauce

1 tsp. ginger

Sauce:

3/4 cup reduced-sodium, low fat chicken broth

1/3 cup chili sauce

3 tbsp. rice vinegar

2 tbsp. brown sugar

2 tsp. cornstarch

1/2 tsp ground ginger
Preheat oven to 350 degrees. Combine meatball ingredients in medium bowl and mix thoroughly. Line a baking sheet with foil. Place cooking racks in foil lined baking sheet. Shape meatballs and place on the racks. Bake for about 25 minutes or until thoroughly cooked. Transfer the meatballs to a serving dish and cover to keep warm.

Combine the sauce ingredients in a small saucepan and stir until cornstarch is dissolved. Place sauce over medium heat and stir intermittently until mixture comes to a boil. Reduce heat to low, and stir for another minute or until mixture thickens slightly. Pour sauce over meatballs, and gently toss to coat meatballs and serve warm with toothpicks.



Clean Eating Tex-Mex Dip I am such a sucker for Mexican Food and this one sounds completely divine. I honestly am going to have to portion out the 1/4 cup serving otherwise I would eat it all at one sitting.

Ingredients:


1 (12 ounce) jar of your favorite salsa, no sugar added
1 (15 ounce) can black olives, chopped
1 (15 ounce) can non-fat, re-fried beans, no sugar added
3 avocados
Juice of 1 lime
2 large Roma tomatoes, chopped
2 tsp. garlic powder
2 tsp. onion powder
1/2 cup chopped fresh cilantro, loosely packed

Directions:

Combine the beans and the salsa in a pot and warm while stirring constantly. Once they are warm and well combined, remove from heat and pour the beans into your serving dish.

Next, make your guacamole using the avocados, lime juice, garlic powder and onion powder. Add salt to taste. Layer the guacamole over the beans.

Top with olives and tomatoes next and finish with the fresh cilantro.

Serve with your favorite, clean corn chips or whole grain crackers. I like the food should taste good tortilla chips, they are by far my favorite.

Bruschetta

makes about 8-10 servings
Gently blend together in a medium mixing bowl:
6 good sized Roma tomatoes, diced
3/4 cup of sun dried tomatoes (packed in oil-preferably olive oil) finely chopped
2 T. extra virgin olive oil
4 t. minced garlic
1/2 cup of finely chopped fresh basil
2 T. balsamic vinegar
1/4 t. ground pepper
1/2 cup of grated Parmesan cheese
Preheat your oven to 400* and spread the mixture in an 8" x 8" baking dish and bake for about 10-15 minutes. Once the edges are bubbling and it smells amazing.
I like to serve my Bruschetta with a whole grain baguette that I slice down brush with Extra Virgin Olive Oil and bake until lightly browned. You can make your own chips that are healthier than the store bought version.
Enjoy your parties this weekend and please share your favorite recipes too!! I always love hearing your clean appetizers. It's the one area we all struggle with!
Labels: Appetizers, clean eating, Clean Eating Recipes, Committed to Getting Fit, healthy appetizers, healthy party tips., melanie mitro, Party Recipes