As a mom, Beachbody Coach and Clean Eating lady I have made it my mission to help you get health and fit and know that this can be your lifestyle and not a crash diet! So as I ventured off to the grocery store today I had my kids in mind. I was definitely allowing to many unhealthy treats make their way into our house. I was completely guilty of buying them toaster strudels, chips and cookies. I thought to myself, if I won't feed that food to myself then why in the heck am I feeding it to my kids! I decided that it was time to really get back to my whole clean eating approach with my mini me's!!! I always provide them with healthy options but now I'm taking it one step further.

So when we went to the grocery store yesterday I spoke with Landon about making healthier choices. We steered clear of the frozen food isle with the toaster strudels and french toast sticks. We decided to choose cereal. He wanted fruity pebbles and captain crunch but I explained that it wasn't healthy food and that we needed to pick something that was a little healthier. While I am completely aware that the choice we did make wasn't 100% clean it was still my best option because I wanted to slowly ease them into it. The Leapin Lemurs peanut butter and chocolate cereal wasn't a bad option at all.



Ingredients:
Organic corn meal, organic whole grain corn meal, organic evaporated cane juice, organic peanut butter, organic molasses, organic cocoa, sea salt, organic soy oil, natural flavor, tocopherols (natural vitamin E). Contains peanuts. Produced in a facility that uses tree nuts and soy.


For juice this is one thing that our family struggles with. Just about every juice on the market is filled with high fructose corn syrup and has more sugar than I myself would eat in 2 days. So I was in search of a better option and came across, Northland Juice.


There are a lot of times that we are on the go with Preschool drop off, errands, visiting family and just being out and about! The zone perfect kids bars are not clean but they are protein which is going to keep them full and it's going to simulate a chocolate bar but give them nutrition!

For a little snack at home sugar snap peas and carrots are always great! But what kid doesn't want Ranch to dip their veggies in! I decided to pick up a ranch packet and mix it with greek yogurt and that can be their dip for the week!

Greek Yogurt and Ranch packet

Waffles are a staple in our house so Earth's Best Organic mini waffles were a good choice. They are about to be eaten just as we speak!!! My little Bryce man is the carb KING!!!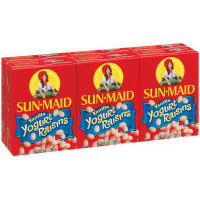 Yogurt Covered Raisins


I have noticed that my kids really can't handle sugar. Their behavior is ridiculous and they are completely wound up and hyper. I know that personally when I eat junk food that I feel bloated, foggy, and sick to my stomach plus lethargic. Can you imagine what those foods are doing to our kids? If we want them to be able to sit in class and learn plus have optimal performance then we definitely should give them brain power to do so!

It's just the small simple changes that make the world of difference. It's never to late to start!!!

These 2 are worth the best!
Labels: Cereal, Clean Eating for Kids, greek yogurt, Healthy Kid Breakfast, Healthy Kids Snacks, melanie mitro, Ranch Dip, Snacks, Waffles