Melanie Mitro's Summer Slim Down Challenge


Summer is right around the corner and I swear that the months are just flying by faster and faster! I felt like just yesterday I was planning for Christmas and now we are planning for the beach and vacations! I remember very vividly 3 years ago getting ready for summer and going bathing suit shopping. I literally laid on the bedroom floor crying because ABSOLUTELY nothing fit me! After having 2 kids my body was NOT the same. Things that used to fit me were magically to short and they hugged me in ALL the wrong places!!! I had never worn a one piece before and there was no way that this baby belly was going to fit into a bikini.


Below you can see my day 1 photo! If you have ever taken before pictures before you know that feeling. Literally looking at yourself in the absolute worst light ever and pointing out your flaws and making yourself completely vulnerable is really humbling. I hid those photos in my computer in a file under a file and vowed never to show a single soul. The ah-ha moment came when I started taking progress pictures along the way or "selfies" as we all know them! This is when I realized that my body was changing way more than my eyes could see when looking in the mirror. It wasn't until I was completely done with P90X and I compared day 1 to day 120 and I just about fell over!!! The change was drastic and mind blowing. If I would not of taken those before pictures I would not of had that realization that what I was doing WORKED!!!


It was at that moment that I realized I had found my "THING" my "soul mate" workout and the system of not only weight loss but proper nutrition that I could stick with for the rest of my life. I wanted to shout this from the rooftops that finally I had it together! So in honor of my personal journey and transformation I am hosting a "Summer Slim Down Challenge" because that is what my very very first group was called and I am going to be giving you the SAME support, GUIDANCE, and INSPIRATION that I was given when I started.

Asking for help is hard, admitting that what you are doing isn't working or that you are stuck in your fitness and nutrition is a hard pill to swallow. But, MOM to MOM, WOMAN TO WOMAN, let me help you! I am not a nutritionist or fitness expert but I am someone who has experience! I have kids, I work full time, I am the maid, the cook, the boo-boo kisser, the mentor, supporter and Coach. I am able to give you real life support because I have been there done that! I have tricks up my sleeve for how to help you plan out your meals, grocery shop, food prep, how to handle temptations, traveling, emotional eating, late night snacks, how to feed your husband and kids healthy foods without a fight! My job and my goal as a coach is to help you make this a lifestyle change and not a crash diet! I don't want to see you start and finish my challenge group and then go back to your old ways. I want to see this become a part of who you are! This is life, a place where you have balance, you don't feel deprived but you have energy, confidence, strength and health!
So this is the OFFICIAL invite to my SUMMER SLIM DOWN CHALLENGE starting on April 21st! You will finish this challenge on June 23rd! 10 weeks to a totally new you!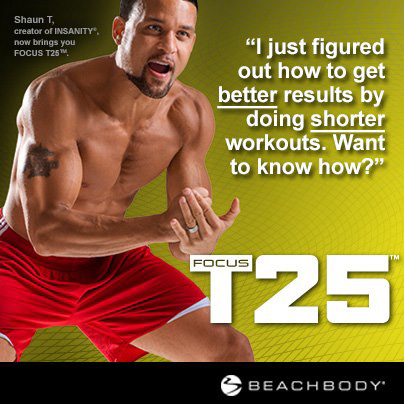 So here is the scoop!!! This month T25 is on promotion which means that they have discounted the price about $90 for the challenge pack. Plus T25 is by far the most effective workout I have seen. Yes you can actually get great results in 25 minutes a day 5 days a week. Trust me, you jump right in, you get started, you work hard and you get results. Shaun T has great modifications so no matter what your ability level is you can do this workout!!!! You can see from the pictures below that it works!!!
So T25 is the program of choice, because lets face it we don't have hours to spend in the gym and we have to get on with life. So this fits our lifestyle!!!!




Then you are committed to replacing 1 meal a day with Shakeology for the duration of the 10 weeks. Yes I know that some people don't want to do a meal replacement, they are afraid they won't like it, it won't taste good, its too expensive or they don't want to have to drink it forever to keep the weight off! Well, the good news is this! It is not your typical protein shake!! It is a meal replacement with the proper carb to protein ratio to keep you full for 2 1/2 to 3 hours, to give you natural energy, to curb cravings for sweets, and to keep you healthy! Most of us have good intentions of eating healthy, of cooking and preparing all our meals each day but lets face it that doesn't happen. We run late, we oversleep, the kids misbehaved and we are finding ourselves running out the door without breakfast or lunch. Instead of hitting the drive thru you literally grab a shaker cup, water and Shakeology! Breakfast on the go minus the crap that weighs you down and keeps you from reaching your goal. It's nutrition in a glass and its convenient!!! So, trust me on this! Give me 10 weeks of Shakeology and I will teach you how to plan out your meals, how to make better choices and at the end of the group you will be armed with all the tools to make healthy decisions and you can decide to continue or not at that time! DEAL!!!!!

So now what?! What can you expect?! When you sign up for my challenge group you don't just get a bag of Shakeology and a fitness program! You get "ME"!!!! LOL, well you get a lot! So I run groups in which I add you to a closed online support group where no one but the members of the group can see what is being posted. Then, I have an entire week before we start and I call it "Pre-Season" and this is where we plan and prep. I help you write goals, we do pics and measurements, we talk about meal planning in depth and I guide you in the right direction to be ready for day 1!
Then each week you get a motivational Monday video from me, and a daily post with either tips, tricks, recipes, accountability to keep you on track. Each day you log in, read the daily post, log your accountability stats and you stay focused on your journey! There will be ups and downs, days you want to quit, or days that you feel like the progress isn't happening fast enough. That is why I am here! I will help you stay focused and accountable so this program doesn't become something else you buy, have good intentions and then life get in the way and never finish! This time it's different!!!!!




So, are you ready?! April 21st starts day 1 of workouts! Are you in? If you want more information please complete the application below to be considered for one of the spots in the Summer Slim Down Challenge!!!



Now is your time to put your BEST foot forward and look and feel the most ALIVE you have ever felt in your entire life! Trust me, if you believe in yourself you can do it!!! I will be there with you every step of the way!


Labels: Accountability, Committed to Getting Fit, Elite Coach, melanie mitro, Motivation, Shakeology, Success, Support, T25 Sale, Top 10