4th of July Clean Eating Tips


The 4th of July is tomorrow and with any holiday comes celebration, fun, food, friends and drinks! You know that I practice the 80-20 rule and I believe in enjoying yourself and having balance! I'm not an all or nothing type of person but I do believe that you need to have guidelines and restrictions for yourself! It is so easy to go overboard and completely indulge when you are supposed to be on track. So here are my tips to help you survive the 4th of July weekend and not kill all your progress!



1. Schedule your cheat meal for the week:

Decide what you want to splurge on! Is Grandma's potato salad the most divine thing you have ever tasted? Would the 4th not be complete with that triple chocolate cake? Or would that beer be torture not to have? Here is the ticket, you pick 1 thing and you have it! You also stay within the correct portion size. You don't go overboard, but you have what you want in moderation! Lastly, you do not take a rest day on your cheat meal day! You bust out that workout and you give it 100%. Just because it's a holiday doesn't mean you slack. Results happen because you are consistent day in and day out! Also, you get 1 cheat meal, not a cheat meal each day. It's once a week, so if you are going to have your treat today, you are not going to have another treat the next day when you go to the next get together or dinner out! Trust me, it all adds up quickly so staying accountable is important! If you need to have someone that keeps you in check, tell someone your plan and have them remind you what your working towards.

2. Don't let yourself get to the point of ravenous: If you are planning a picnic try not to skip meals. Eat every 2 1/2 to 3 hours a day to keep your metabolism in check but also because when I get to the point of beyond hungry all logical decision making goes out the door and I make bad choices! So no matter what pack some snacks in a cooler, take your shake, drink your water and stay focused!!!!



3. Take a healthy appetizer if you go to a picnic.

This way you know you have something that you can eat that is guilt free! Here are a few of my festive favorites that you would not think of as a clean option.




Fruit & Yogurt Festive Parfait- Team Beachbody





Total Time: 5 min.
Prep Time: 5 min.
Cooking Time: None
Yield: 1 serving

Ingredients:
1 cup nonfat plain Greek yogurt
¼ cup fresh strawberry slices
¼ cup fresh blueberries
½ tsp. raw honey




Preparation:
1. Place 1/3 yogurt in a tall glass. Top with 1/3 strawberries and 1/3 blueberries. Repeat layers twice. Drizzle with honey.
Fun and Festive Fruit Tray
Grab some skewers at the grocery store, cut up strawberries and bananas and put on the skewers with blueberries for an awesome beautiful side!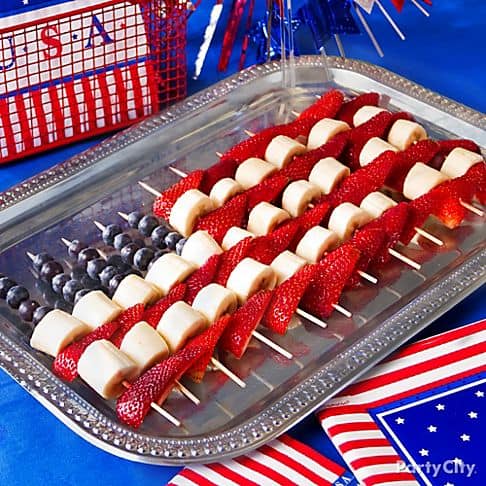 Your best drink options are:
Soda water/vodka
(boring but add a squeeze of lemon, lime or oranges to the mix and give it some flavor)
I hope you have a healthy, festive and safe 4th of July!
4th of JULY CHALLENGE!!!! Post your POST WORKOUT 4th of July pics on my like page for a chance to win a SPECIAL Prize!!!!! Hastag #fit4thofJuly
Labels: 4th of July Clean Eating, Accountability, holiday treats, Recipes, Stay on Track, Tips