I was talking with one of my challengers this week who has to have surgery. We were discussing a game plan to help keep her on track. She really wanted to create a meal plan for her husband of clean recipes that he can easily make! So I thought I would put together a plan so that I can share it with everyone! This list of recipes can be used if you are a working individual who doesn't have a lot of time to cook, has evening activities and you need quick crock pot meals or you just don't like to cook and want the least amount of effort possible without compromising your clean eating!

So good and perfect for the need for an indulgence!!!! My husband actually makes this on his own as a snack of choice. Cookie Dough Greek Yogurt.



Southwest Quinoa Salad: This can be used as a lunch or dinner. It's easy to portion out into containers and save for the week! One of my personal favorites because it has protein in the form of Quinoa and the complex carbs from the veggies. Full of flavor!! Serve with grilled chicken with the fajita lime seasoning (Mrs. Dash) for more protein!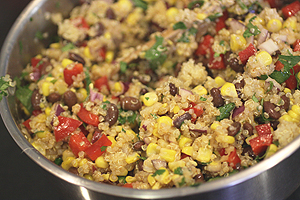 Baked Oatmeal: Here is a recipe you can make ahead of time and portion out into individual serving sizes (1cup) and store in airtight containers in the fridge. Then just heat and pour a little almond milk and stir! Really tasty stuff! This is a recipe that you can take for a lunch meeting or moms group get together and no one would even know it's healthy! PS: I trick my family with this one all the time!!!


Turkey Muffins: You can use these turkey muffins as a snack or as a meal. They are super easy, make in a muffin tin and store in the fridge. Power packed lean protein with 2 cups veggies and you are good to go! They keep in the fridge for an entire week no problem.

Chicken Bake: It's like smorgasbord of protein, veggies and potatoes with some awesome flavor. It's one dish cooking that doesn't take much thought!

Chicken Cheesesteak: Thing Sunday football games, family get togethers, guys night, family night, or I just want a stinkin hoagie night!!!! I serve it up with some sweet potato fries!

Crockpot ziti Yeah not every husband wants to make this but it's one of the meals that makes a lot and is comforting. It's a hearty meal and a great replacement to stuffed shells or white pasta!!


Balsamic Chicken and Mushrooms: This is another super quick and easy dinner that can be ready in less than 30 minutes (as long as your chicken is thawed). It even tastes dreamy the day after when it has marinated in all that fabulous juice!

Slow Cooker Mexican Dinner: Winner winner chicken dinner!!! Crockpot saves my life numerous times!!! You have to put this on the list!

Tomato Basil Turkey Cutlets: All I can say is melt in your mouth good!


Turbofire Chili: this is a family favorite and I make this for every family get together and for anytime I need a comfort hearty meal! I served this at my son's birthday party and everyone raved about it.


Labels: Clean Eating Recipes, Dinner for Dad, Easy Clean Eating Meals, Easy Dinner Recipes, Healthy Dinner, melanie mitro